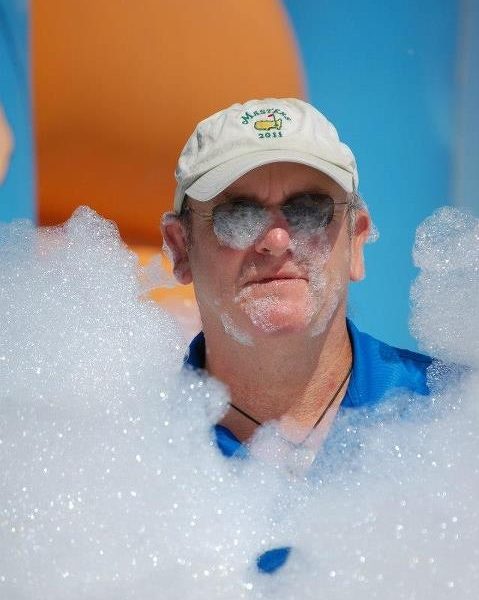 Amateur golf career was BB&O player, playing off 1.4, member of Frilford Heath in Oxfordshire.
Ex RAF military free fall instructor completed over 3,000 free fall descents mostly from c130 Hercules worked mostly with SBS, SAS, and pathfinders from 2 para plus delta force from USA. RAF in 1989.
I have been teaching on the Costa del Sol since 2001.  I'm married to wife Yvonne who plays off 12 hc, have son Stuart 15 hc aged 32, and daughter Jo who is also an EGTF qualified ex England player.
I am age 57 but feel like 77 as had back op in 1999 to fuse L4 And L5 and osteoarthritis of left knee, but still manage to skid it around at level or a couple under in the weekly local Pro event here in Marbella.
Where do you work?
Atalaya Golf Academy Spain on the Costa del Sol, not far from Marbella.
Where do you play golf? 
Mostly Atalaya , El Higueral and the Marbella golf resort.
What is the best thing about being a Teaching Professional?
Seeing someone's face when they discover success with their golf after being frustrated on the golf course !  And the fact that you can never be too old to teach golf.
What is the worst thing about being a Teaching Professional?
Never receiving any shots !!
How many lessons do you do in the Summer and the Winter?
Average number of lessons throughout the year per week is approximately 5 pw but playing lessons are now becoming more popular.
What do you consider is the most important lesson you could give someone and why?
9 hole playing lesson – as you see everything a golfer does and think while playing.  In theatre is the best place for someone to learn.  Mat or range lesson is still good for beginners or basic swing mechanics but on the course is without doubt the most effective and quickest way to take shots off a player's score.
What is your favourite drill and why?
L to L drill with a short iron as this gives a variety of solutions; balance, control, removes the urge to hit the ball hard, wrist hinge, and active use of the hands.
Who is your favourite player and why?
Of all time, Ben Hogan for his pure determination to succeed.  Currently Justin Rose for his attitude on and off the golf course.  He handled his latest win, US Open with grace and balance, mentally and physically.
Who would be your favourite fourball and why? 
Ideal 4 ball would be Ben Hogan, Jack Nicklaus  and Seve Ballesteros.  Hogan for his pure swing, Jack for his ability to focus and concentrate, Seve for his imagination and short game ability.
Which is the best course your have played and why?
St. Andrews old course, for the history, but mostly because it is so well balanced as an 18 hole test.   The first time you play it you think what's all the fuss about !  Then after a few rounds you then begin to see a strategy that needs to be applied to achieve success.  It starts with a pretty easy par 4 then depending on the tide, it's a steady increase in difficulty until you turn after 9 with good birdie chances and a real tough finish from 15.  Great course. 
What is your best and worst experience you have had in golf?
Two best experiences in golf for me which are of equal pleasure:
1. Watching my daughter shoot 4 under in the South African Amateur Open and then get selected for the England elite under 18 squad.  In the field was the current GB and Ireland Curtis Cup squad 18 players and she blew most of them away in the stroke play comp.
2. Was shooting 7 under 66 at Penina off the white tees back in 2006 while playing in a friendly match. 
Worst moment was when my daughter Jo got hit in the right eye by a ball in the junior County foursomes while I was playing in the Burford foursomes Pro Am and she lost 90% vision in her right eye.  She got selected for England after this accident which made the best experience (above) more important !
Why did you become a Teaching Professional?
Passion was always in golf.  When I was an IFA in the UK, I only got involved in this job to fund my golf, so when the company folded I decided to join the golf professional ranks.
Note :- I did try to join the PGA back in 1991 and had a position lined up at Castle Coombe, but PGA Regional Director Nigel Blenkarne phoned me up and informed me I was three months too old to become a member !!! You had to be under 35 to be a PGA member, what a farce !! Since then a couple of guys took the PGA to court and European ruling found it was deemed to be age discrimination and now its all changed !
What is the best tip you could give a junior golfer?
Always have fun when you play or you will walk away from the game later on.  When you learn, start at the hole and work backwards so the last thing you learn is the tee shot or driver.  This worked very well with my daughter and the Swedish Golf  Foundation were pretty good at this strategy back in the 90's.
What's in the bag?
Ping i20 driver project x 5.5 graphite 
Taylor made rbz 15 deg fairway wood reg shaft graphite
Ping i20 hybrid rescue club project x 5.5 graphite
Calloway 1 iron steel reg shaft
Ping i20 irons CFS steel shaft 
Ping anser wedges 50, 54, 58
Odyssey two ball black ice centre shafted putter with 370g head weight plus 4 strips of lead behind face 
Ball is new Calloway tour I hex chrome great ball ! Only just changed from 15 years of prov1 golf