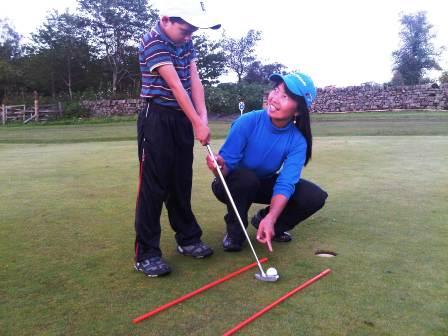 Thanks to the EGTF for reinforcing my coaching career.  A few months ago after the Diploma Course, I came on board as the Golf Professional (Coach/Teacher) at Polkemmet Golf Club, West Lothian, Scotland, on top of my attachments to Binny Golf Club as Junior Development Coach; and Harburn Academy, working with children in tandem with the Harburn Golf Club Pro.
I love coaching both adults and children.  I have coached children for 7 years and believe that there is a need for more effort in this area as Golf Clubs/Coaches seem to be less interested in children who are under 9 years of age.  Young talent should always be encouraged.  One exasperated dad approached me for lessons for his son who had been refused by Golf Clubs/Coaches because of his youth.  I took on and coached Owen who was only 5 years old at that time and now at age 6 he is a member at Binny Golf Club and one of my Junior Development Programme participants.  He plays in the Blue medal competitions regularly and won the trophy this year – Blue Junior Champion 2011!  This is a prime example of a very young child with the potential of a future champion.
NEVER TURN DOWN RAW TALENT…..CHILDREN ARE GOLF'S FUTURE; AND WITH GOOD COACHING AND ENCOURAGEMENT, THAT FUTURE CAN BE GREAT.
Macrina Crawford (EGTF Golf Professional at Polkemmet Golf Club, Scotland/Binny Golf Club, Junior Development Coach, Scotland)