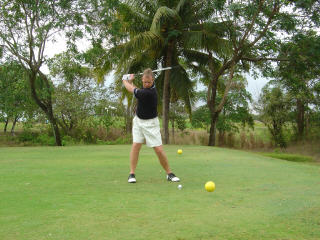 [box]This edition we are profiling EGTF Professional Frank Scott, who has instructed on many of our CPD Seminars, and is considered one of the top coaches in the UK.[/box]
Frank was born in Hawick, in the Scottish Borders in 1955 and now lives in Clovenfords.
Frank is a full time teaching professional and professional club maker.  He learned to play golf at the age of 11 at Hawick Golf Club whose membership fee was 10 shillings!  By 16 years of age he was a scratch golfer using only seven golf clubs; a 2 wood, 4 wood, 2 iron, 5 iron, 7 iron, 9 iron and a putter.  He first played for the Borders County Team at the age of 16 and went on to play for them for the next 30 years.  He is now coach to the County Teams at all levels, both male and female.
When did you qualify for the EGTF?
It was in 2000 at Oliva Nova, Spain.
Why did you become a teaching professional?
I was a successful amateur coach.  Even at this stage I had the ability to take players to international level.  The opinion of many was that I should turn professional and do this as a career.
Where do you work?
I work at Synton Mains Driving Range near Hawick, where I have my own teaching facility, using video analysis and a vector launch monitoring programme.
Where do you play golf?
I am a member of Roxburghe Golf Course near Kelso, Silloth on Solway and an Honorary Member at Hawick Golf Course.
What is the best thing about being a teaching professional?
Having the chance to work with people of all ages and abilities from disabled children to adult tour players.  I am currently coaching the British under 12's champion and the British over 80's champion.
What is the worst thing about being a teaching professional?
Teaching in the cold, Winter weather that we have in Scotland.
How many lessons do you do in the Summer?  How many in Winter?
40-48 per week in the Summer and 30-35 per week in the Winter.
What do you consider is the most important lesson you could give someone and why?
To convince them that the short game is more important than the long game, especially when they come for a lesson saying that they have a problem driving the ball.  60% of golf is played from 100 yards to the green or less.
What is your favourite drill and why?
I use so many drills that I don't have a favourite, but like to think that I use the most appropriate drill at the right time.
Who is your favourite player and why?
Ernie Els.  He has a great looking swing which is easy to relate to.  The best ball striker I ever played with was Sandy Lyle (by a mile).
Who would be your ideal fourball and why?
Ernie Els, Tiger Woods, Michelle Wie and Dr Paul Hurrion.  Ernie for his rhythm, Tiger for his power, Michelle for her youth and Paul Hurrion so he can explain how well or how bad they move and to analyse their putting strokes.
Which is the best course you have ever played and why?
Loch Lomond for its beauty and standard.
What is your best and worst experience you have had in golf?
Best – seeing one of my first pupils become an international golfer.  Worst – unable to work with some players due to PGA bureaucracy.

Find a good coach, take individual lessons and work hard on your short game.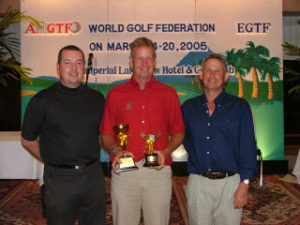 What is the best tip you could give a junior golfer?
What's in the bag?
Woods – don't own any! but use trial snake eyes, driver, 3 wood, 5 wood, utility wood (provided no one else is using them!)  Irons – seven year old Golfsmith Professional grind blades.  Lamkin crossline grips (still using the original grips, so shows how much I play!)  Putter – Yes, Callie 31 inches, two thumb putter grip.