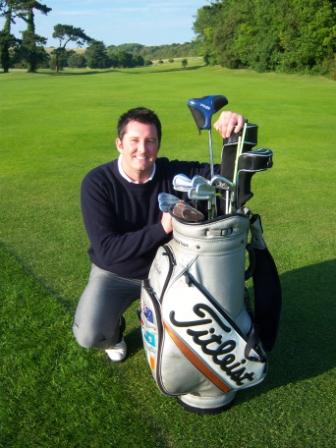 I am currently the Head Professional at Hill Barn Golf Club, Worthing, West Sussex and also teach part time out of Avisford Park Golf Club, West Sussex. My roles with both clubs are purely to supply the teaching arm to members, guests and visitors. My company is called South Coast Golf.
I am also the Director of the South Coast Golf Tour – a golf tour aimed at business and corporate clients who actively use the golf course to entertain and win new business.
We are in our third year of trading; our last event at Crowborough Beacon Golf Club in April attracted over 60 players.
It's been incredibly hard work to get to where we are now, through sponsorship and bums on seats the business is now making a profit. As a direct result of the tour (which was always my intention) I have increased my lesson bookings with clients I would or may never have had the chance to meet.
What is the best thing about being a Teaching Professional?
Helping my clients and pupils to achieve and succeed their golfing goals.
What is the worst thing about being a Teaching Professional?
English winter seasons
How many lessons do you do in the Summer and Winter?
I teach on average – 25 lessons a week in Winter and 45 lessons a week in Summer
What do you consider is the most important lesson you could give someone and why? 
Focus on your short game – the key to reducing your scores is by getting the ball "up and down" more often.
What is your favourite drill and why?
I personally like the "presetting the wrist drill" – I like the feeling of just turning my shoulders to completion and the club is set on plain and on line.  It feels a solid position before I start my down swing.
Who is your favourite player and why?
I have a lot of respect for Phil Mickelson. I enjoy watching him play aggressive golf but I also like the way he conducts himself on and off the course. You can see why he is very popular all around the world.
Who would be your ideal fourball and why?
Dream fourball – Phil Mickelson and I take on Tiger and Rory.  That wouldn't be a bad match to play in.
Which is the best Course you have played and why?
I really enjoy the Majlis course at the Emirates in Dubai.  It's a real tough test of the backs with lightening quick greens. Every hole is different to the next. The location being surrounded by skyscrapers adds to the unique feeling you can only get from being in Dubai.
What is the best and worst experience you have had in golf?
Worst experience – being stuck out on Rockwood golf course when this storm came in.  How to this day we weren't hit I have no idea?  The fork lightning was hitting the ground only a few metres away!
Best Experience – For fulfilling my dream to become a teaching professional.
Why did you become a Teaching Professional?
I love the game of golf. I am also a student of the game. I realized several years ago that I had a good understanding of the golf swing and I was able to communicate with people with a simple to understand approach. To earn a living from doing something I love gives me a reason to jump out of bed every morning.
What is the best tip you could give a junior golfer? 
Best tip for junior – expect some bad days and enjoy the good days.
What's in the bag?
I have a deal with Benross Golf to use and sell their clubs.  In my bag I have:
Benross RIP Driver 10oC Aldila's lightweight RIP PHENOM stiff
Benross RIP 3 Wood 15oC Aldila's lightweight RIP PHENOM stiff
Benross RIP Speed Hybrid 20oC Aldila's lightweight RIP PHENOM stiff
4 – PW Hot Speed Irons R300 shafts (Very forgiving clubs)
52oC, 56oC & 60oC Lazer milled ZIP IT wedges – Old model
Benross Putter – MOI Baccarat
Titleist PROV1 balls
If any EGTF Pro is out their selling golf equipment, I strongly advise you to book an appointment with the Benross Rep.  The new product range look great and play great but most importantly they have 36% sales margin on the RRP.