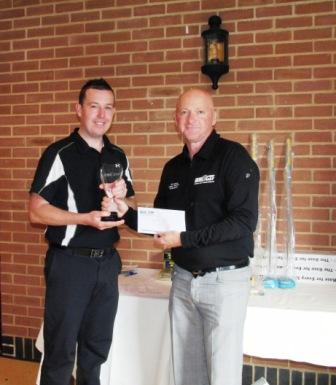 EGTF Pro Am – Darenth Valley GC, Kent
Sunday 10 July 2011
Congratulations to EGTF Professional Leon Clark for winning the EGTF Pro Am at Darenth Valley Golf Club in Shoreham, Kent.
Leon played solid golf in shooting a level par round of 72, defeating the Darenth Valley Professionals of Pete Stopford and Bill Abbott into second and third place respectively.
A good turn out and a lovely sunny day enabled some excellent scoring, with Trevor Atkins taking the Amateur Competition with 38 points.
EGTF Professional Joe Smith, Trevor Atkins and Gary Gilbert captured the Team Competition with 79 points.
Thank you to everyone who turned up and made the day so successful, with a special mention to our Sponsors, ProStance, Mizuno, Gel Putters and Orka Golf Clubs who provided such a wonderful array of prizes.