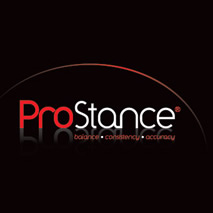 Pro Stance Teaching Aid
The ProStance Teaching Aid has become a must have for any golf professional.  Whether you are playing or teaching, the feedback this product gives you is absolutely fantastic.
It was designed by EGTF Coaches, Stewart Craig and Dr Paul Hurrion and has 10 years' of biomechanical research into balance problems at address and at impact.
Now used by many of the world's best players and teachers, including Padraig Harrington, Rory McIlroy, Henrik Stenson, Lee Westwood, Oliver Wilson and many more.
It soon helps you to realise that poor balance causes many of the faults we see from day to day in teaching the golf swing.  Bill Abbott says, 'It is now a permanent fixture in my bag, whether or not I am teaching or practising.'
It is without doubt the best teaching aid on the market, and without it you will be guessing as to what the problem is.
The ProStance is available to EGTF Professionals for own use or in a Teaching Pack of 10.  For more details go to www.pro-stance.com