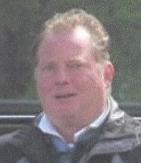 Stuart Gavaghan
I started playing golf aged 7, but I had been around golf since the age of 3 as my father was on the Committee at our club.  I was Junior Captain and played under 21's for Surrey County Golf Union.  I won three County titles including Surrey Championship at Croham Hurst 36 hole event.  After that win, golf would become my career, but I waited until I had some savings.  I wanted to start abroad and called an Advert in PGA Profile, an Assistant needed in Germany.  I went for an interview and started immediately.  I found it was only Teaching Pro's they wanted and I would soon be teaching every day from March-October.  So this was when I became a Golf Teacher in 1989-90.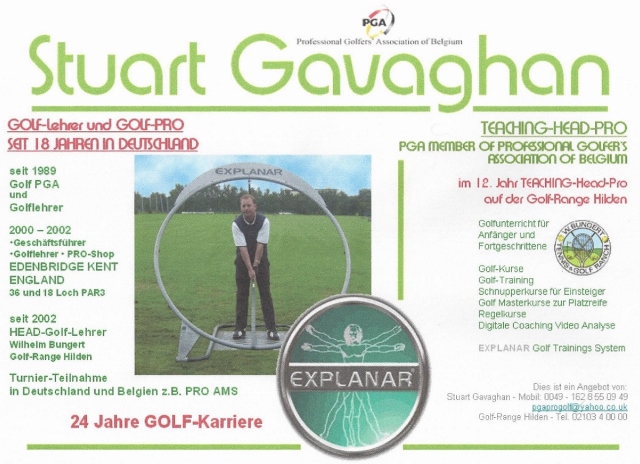 Where do you work?
A Golf Centre in Germany (Dusseldorf area) as Head Coach and also Manager of the Range and Short Course.   A famous German Tennis player owns it and it also has 6 indoor Tennis courts.
Where do you play golf?
I play at Rittergut Birkhof where I also work 2 x per week since 1997.
What is the best thing about being a Teaching Professional?
Helping all kinds of people from all jobs or unemployed, so that golf keeps them occupied and out in the fresh air making good use of their free time.
What is the worst thing about being a Teaching Professional?
The long Winter or leaving family and friends when heading out to Germany for sometimes 10 hard months' solid teaching, is hard to get used to.
How many lessons do you do in the Summer and the Winter?
No lessons in the Winter but the Summer varies 30+ per week.
What do you consider is the most important lesson you could give someone and why?
Start with good posture.  Learning how to stand correctly will avoid any injuries to the spine, knees and hips.
What is your favourite drill and why?
Simply the goalkeeper drill.  Stand like one for good posture.
Who is your favourite player and why?
Favourite player of modern times is Rory McIlroy because he has a good golf swing and short game.
Who would be your favourite fourball and why?
Ideal 4 ball would be me, Rory McIlroy, Jack Nicklaus and Tiger Woods, because of the mixture of all ages and different golf swings to learn off of.
Which is the best course you have played and why?
The Victoria Club in The Algarve for the sun in the Winter and the layout of big lakes and perfect fairways with fast greens.  It also has a very relaxed Club House.
What is your best and worst experience you have had in golf?
The best experience in golf was winning three under 21 Surrey County Championships one after the other.  I also played rounds with the longest hole in one record holder, Peter Lovesey.  I met Tony Jacklin for an hour's talk one-to-one at San Roque Golf Club in 1990.
The worst experience was playing Winter golf in the UK on muddy, wet and sometimes freezing conditions.
Why did you become a Teaching Professional?
I became a Teaching Professional because I enjoyed it.
What is the best tip you could give a junior golfer?
A junior golfer should always take a lesson or more with an EGTF Teaching Professional, because of the simplified and fun approach to teaching.
What's in the bag?
I have a contract with Callaway that keeps me up to date with their irons and woods.