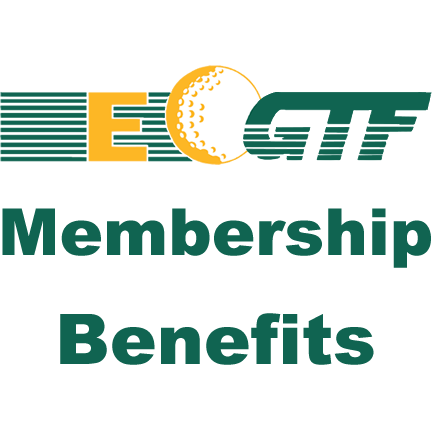 We are often asked, "what benefits are gained from becoming an EGTF member."  The EGTF membership represents fantastic value for money when you look at the benefits that you are able to become involved in.
1.  The EGTF qualification is a nationally recognised award in the UK, meeting all the necessary standards for teaching as set down by our government backed awarding body, ABC Awards. More and more EGTF professionals are finding work throughout the UK, Europe and the rest of the World, as the standard of our teachers becomes better known to the public and golfing establishments.
2.  The EGTF membership card is accepted at many golf clubs around the World, offering either reduced green fees or complimentary golf.  Please ensure you make contact with the secretary or golf director before you turn up as a matter of courtesy, to ask their particular policy on this matter.  This benefit alone can save you hundreds of pounds per year in green fees.  Please remember that courtesy is at the discretion of each individual golf club.
3.  As you will know, insurance these days is vital for any responsible teaching professional.  Through the EGTF, members with a UK address are able to gain access to a first class insurance policy at greatly reduced rates.  The group policy works out at £60 per member and offers great cover for you and your students.  An individual policy could cost anything from £300.
4.  We now have a very good CPD (continual professional development) program running, which is designed to allow our members to either upgrade their knowledge in certain areas, or to help push them into specialist sections of the teaching world.  Our CPD seminars utilise the very latest teaching ideas from around the World and are very competitively priced from £100 per seminar.  Other organisations charge much more.  Dates and times of the various seminars can be found on our website (Members' only section), and along with our Masters Course, provides everything that an open minded teaching professional could possibly want, to help push themselves to the next level.  Remember, the more knowledge you have, the more confident your teaching will become.
5.  The list of companies that are now associated with the EGTF and offer our members discounts on their products, is growing every year.
Quintic Consultancy – One of the best video analysing software programs on the market.
Yes Golf Putters – Makers of the c groove putter, number two putter on all tours worldwide.
Explanar – First class teaching aid, invented by Luther Blacklock and endorsed by Butch Harmon.
Oliva Nova Resort – 5-star golf complex near Alicante, Spain, that provides excellent deals and packages for EGTF professionals to take groups for teaching, or for a personal holiday.
Golfsmith Europe – The opportunity to purchase golf club components, heads, shafts and grips, at trade prices.
ProStance – Amazing golf teaching aid from EGTF Professionals Dr Paul Hurrion and Stewart Craig.
Bespokeclubs.com – Trade prices for EGTF members.
6.  We get a number of teaching jobs through the office each year and if you are on the employment list, we may just be able to find something to suit you.  We also have links with the Julian Krinsky Foundation in America, who run a huge golf summer camp and are looking for EGTF teaching professionals to work in the golf camps each year.
As you will see, EGTF members have access to a variety of excellent deals that make the yearly membership great value.
For more information on any of the above services, please don't hesitate to contact us at info@egtf.co.uk