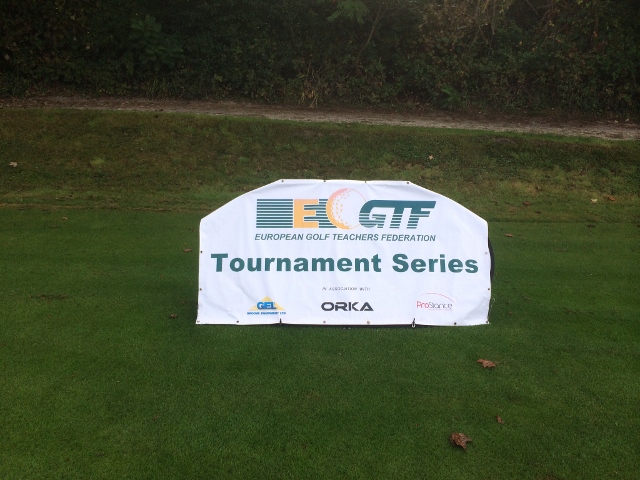 The EGTF Pro Am was held at the lovely Darenth Valley Golf Course on Ryder Cup Sunday, so we had the benefit of playing in the tournament and watching the important action from the singles, as Europe crushed the American Team once more !
The weather was glorious and the company excellent, which all made for a great day of golf for the EGTF members and their guests, with some fine scoring all the way.
The Amateur Competition was won by Mira Lee , playing off 5 handicap scoring 34 points.
1st – Mira Lee – 34 points
2nd – Dave Leach – 33 points
3rd – Tommy Barnes – 32 points  
The Team Competition was captured by my team, including Mira Lee and Jeff Barnes with a score of 82 points (best 2 scores from 3 on each hole)
1st – Bill Abbott – Pro – Mira Lee – Jeff Barnes – 82 points
2nd Pete Stopford – Pro – Dave Leach – Peter Wilmour – 79 points
3rd John Blatch – Pro – Alan Blatch – Chris Ablitt – 74 points
The EGTF Pro Competition was won by Tom Roberts, a fairly new  member to the EGTF, with some excellent play to finish with a one under par 71.
1st Tom Roberts – 71
2nd Bill Abbott – 72
3rd Pete Stopford – 73
 
Big thanks go to the people who sponsored the event :
ORKA GOLF
TAYLORMADE GOLF
GEL PUTTERS
FOOTPAL WEDGES
DARENTH VALLEY GOLF COURSE
The information for the EGTF Spanish Pro Am from 23 – 27 February 2015 is now available through the website and the office, so if you are looking for some competitive golf in February next year, come and join the gang down in Murcia for an excellent week.
Thanks again to everyone who came and supported the EGTF.
Bill Abbott