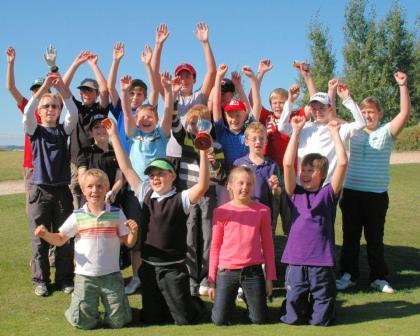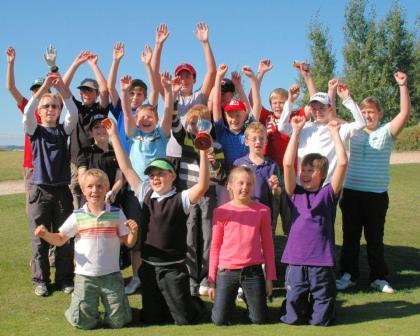 The EGTF Junior Programme has been established to provide coaches with a structured course of lessons for young people who are interested in learning the game of golf.
The Junior Programme has been trialled with golfers already and proved to be a great success with the children and also the adults bringing them along. The idea was to give good, basic playing skills in a fun and friendly environment.
These days golf clubs, driving ranges and schools want to see a professionally run programme that covers everything from golf swing technique, to health and safety in golf, rules and etiquette, and how to develop life skills.
If we can give the kids a structured pathway to follow, with ideas and competitions, then each week should prove to be great fun and a fantastic learning experience.
We have given you the structure and template to provide the service, which can be followed exactly as set out, but also left it fluid if it needs to be changed to suit your coaching ideals, or the place you will be working at.
All documents are in Microsoft Word and Excel, and logos can be altered if need be to show your own junior company. The tests can also be changed if your facility hasn't got all of the necessary areas needed to complete each level.
There are nine levels altogether, five Beginner stages, and four Advanced stages, totalling 36 weeks of instruction. The cost has been kept down to a sensible level to allow more people to use it in the golf marketplace.
The five Beginner levels cost
£150

and the four Advanced levels cost

£125

, but if bought together the total nine level package will be

£250

, showing a saving of

£25

off the full price.

Pricing for each junior golfer coming on the programme is down to the individual coach, but I would suggest anything between £6 and £10 per session would represent good value.

This would then mean that if just two kids completed the full 36 week course at £7 each per week, the total income would be over £500, representing a 100% increase in the outlay. Obviously with the correct marketing and commitment to the programme, groups of between 10-20+ children should be achievable, allowing for excellent returns on the initial expenditure.

This type of professionally run programme can provide the golf coach and the golf facility with a tremendous revenue stream and also enhance the reputation of everyone involved.

What you get is a nine level programme, set out with technique and ideas, along with a student booklet for each level, which can be printed off for each student signing up for the course and also a coaches booklet for each level, which can be printed off to allow for correct continuity for the teaching professional running the course. Each level has its own certificate to hand out on completion by the junior involved.

The Junior Programme revolves around the thoughts and theories of the EGTF coaching manual and course attended by the teaching professional, as we have found that the simple ideas on coaching at all levels work with all standards and ages of people. You will also receive the EGTF teaching manual on your CD along with the Junior Programme files to ensure that you have all the information needed to complete each level with your students.

We hope that by providing a first class training programme for your junior students, you can add another quality product to the services that you already offer.

Please enjoy the EGTF Junior Programme.

Thanks
Bill Abbott
Director of Education