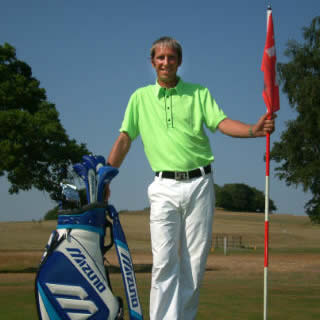 [box]This issue we are profiling EGTF  Professional, Martin Park who is one of the more colourful characters in the European golf industry and well known in his former chosen field of golf journalism and media.[/box]
Martin has been a golf journalist since 1995 when he first covered The Open Championship at St Andrews for both Golf Weekly and also the fledgling American TV station, The Golf Channel.
Martin continued to work for several magazines and broadcast outlets as a writer on tournament golf news, the equipment industry, travel features and instruction articles, but with the declining magazine industry and the advent of the internet, he took the opportunity to help start and develop GOLFmagic.com, where he was the first Editor and helped develop it into what is now Britain's biggest online golf magazine.
He spent two years with GOLFmagic before taking on the job of Media Director for the Ladies European Tour, which at the time was in dire need of good publicity.  His four year tenure with the LET can only be described as positive as he took a small tour with limited ambitions and resources and gave it the profile it has been missing for so many years.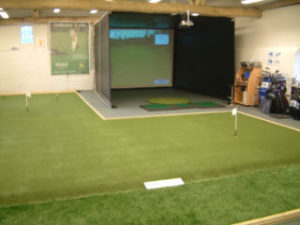 His finest moment with Women's golf came at Barseback in Sweden during 2003 where he hosted over 500 worldwide media during Europe's most successful Solheim Cup victory – where fellow EGTF member, Alison Nicholas was Vice-Captain to Catrin Nilsmark's winning team.
While he has now developed a life in golf coaching, something he has always wanted to do, he still works in golf media and consults on the media and marketing for the Czech Republic and also his favourite job in media, working each year with the R&A Press Secretariat as Press Officer for The Open Championship.
Martin was born in Scotland, but raised in the sunny south-east of England and now lives on the paradise island of Bornholm, a small island affectionately known as the  "Northern-most South Sea island" due to it's fabulous summer climate, pure white sand beaches and private and peaceful atmosphere.
He is married to Yvonne, who is a native of Bornholm.  They have a 9-year old son, Lewis.  Yvonne works as the Business Development manager for his Park Golf Academy company, but much as he would like to, he can't convince his son to give up tennis, handball, football, Playstation 2 and Gameboy for golf….yet!
When did you qualify for the EGTF?
March 2005 at Oliva Nova, Spain.
Where do you work?
I am Head Teaching Professional at Dueodde Golf Club on the island of Bornholm in Denmark.  I also own and manage Park Golf Academy which is now responsible for the training and coaching at two more clubs on the island.  There are over 2000 members at all three clubs with its headquarters based at the academy at Dueodde.  We have a fully fitted indoor centre which includes a 75sq metre chipping and putting green, a projected golf simulator from SportscoachUK with 20 GPS golf courses installed, along with video software, club fitting software, a Vector Launch monitor and soon to come a SAM Putt Lab.  We specialise not only in teaching, but also custom fitting, putting and short game clinics.
Where do you play golf?
I play golf mainly at Dueodde Golf Club and also the Ronne and Ro Golf Clubs on the island.  I also represent our Club in the Danish National divisions and play the occasional Tour event if I have time.
What is the best thing about being a Teaching Professional?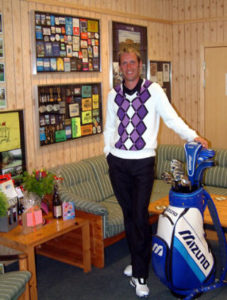 Without a doubt, the best part is being able to influence and guide someone into becoming a better player by instructing them with the latest and most up to date scientific teaching methods and watching them improve during the lesson and have them come back to me saying they are enjoying their game so much more.
What is the worst thing about being a Teaching Professional?
Not being able to play as much as you would like.
How many lessons do you do in the summer.  How many in winter?
From April to September, I teach as many as 75 lessons per week, on average it's at least 45 lessons a week, plus I also teach the Elite players, women's teams, Seniors teams and I have two junior sessions each week.  The summer is manic with the island doubling in population with tourists, many of whom play golf, wanting lesson packages.  In the winter, things are slower, but with the indoor academy, it gives our members the opportunity to develop their game through the cold spell and onto the following season.  Having an indoor green, the simulator and all the teaching aids you will ever need, keeps me busy through the winter.  We run small groups in the evenings for two hour sessions, working mainly on short game skills, but also having many video lessons and of course, a lot of fun on the simulator software.
What do you consider is the most important lesson you could give someone and why?
Any good teacher will tell you that the basics of grip, aim, alignment, stance and posture are the key to any good golf swing.  I always instruct my students that if they work hard on getting a good grip, a good stance and posture and perfect it, every other golf lesson you will have will be much easier to learn.  Making sure the basics are correct before you get technical are the cornerstones of any teaching philosophy.  You can't build a mansion on quicksand.
What is your favourite drill and why?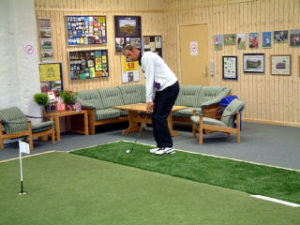 I have many favourites depending on the need at hand, but the most fun one and most common I use is the "show me your spikes" drill.  So simple, yet so effective and easy to understand by everyone, it works a treat!  I hear my students shouting it to me when they see me on the course, it's a lot of fun.
Who is your favourite player and why?
Nick Faldo – simply for his pursuit of perfection in every area of his game during his heyday, his incredible performances in the Majors pre-Tiger Woods.  During the 1990 Open, he set a record which was always going to be tough to beat… 18-under par with wooden woods, bladed irons and a soft balata ball – Tiger could only beat that score 15 years later with all the new technology.  At the time, he was a class apart in his golf.  He was an inspiration to many golfers of my generation and I don't think anyone will ever forget his rivalry with Greg Norman and what happened at the 1996 Masters.  That was Faldo's greatest moment and a lesson for everyone who plays competitive golf.
Who would be in your ideal fourball and why?
Always a tough one to answer!  Probably Nick Faldo, Annika Sorenstam, Tiger Woods and Ben Hogan.  I'll tag along as caddie!
Which is the best course you have ever played and why?
Royal Dornoch – a long way to go, but the experience of playing so well on a sunny day with the gorse in bloom on a course that would make other Open Championship venues look ordinary.  It's an experience I'll never forget.  The company was good, the weather superb, the course at its best and my score wasn't too shabby, after a triple bogey at the second hole – one which Tom Watson says is the hardest second shot anywhere in the world… it's a par three!
What is your best and worst experience you have had in golf?
I've been lucky enough as a writer to have a few such as visiting Augusta National for the Masters in 2001 and witnessing the final leg of the 'Tiger Slam'.  Also working as Jack Nicklaus' press officer during his final Open at St Andrews in 2005.  That will always be one of my favourites and it was an absolute privilege just to be alongside the great man, let alone work with him during the barrage of media who came to see him finish his Open Championship career.  But after the final round of this year's Open, I was the lucky Press Officer who had the first and only interview with Tiger in the recorder's hut for some 'quick quotes' immediately after his win at Royal Liverpool.  He even remembered my name!
The worst experience I ever had was forgetting to sign my scorecard at the Championship of England finals.  My arch rival and best pal won it….and he never lets me forget it either!
Why did you become a teaching professional?
It's something I always wanted to do once I understood how to play the game well enough, but golf media came first.  When the opportunity came to teach in my own club and have an academy built, I grabbed it with both hands.  There is little better in life than teaching someone well and watching them develop and enjoy their game more.  Especially with juniors.  In golf teaching, you are giving them a game for life.  I feel like I am giving something back now, which gives me a sense of pride, too.  I live by my motto – "find a job you love and then you'll never have to work again in your life".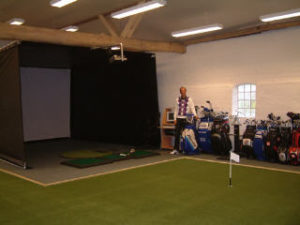 What is the best tip you could give a junior golfer?
Once they've got the basics right and a good idea for the game, it's history and traditions – you need to make sure they realise that golf is a game which has to be played.  You need to get juniors to enjoy it – how you do that is mainly down to the teacher.  With juniors, you've got to have a laugh with them.
What's in the bag?
Mizuno MX500 Driver, 8.5 degree with Grafalloy Pro Launch 65gram X flex shaft
Mizuno MP001 3 Wood – Grafalloy Blue S flex
Mizuno Fli-Hi CLK 17degrees with Grafalloy Pro Launch Blue Hybrid Shaft in S flex
Mizuno Bettinardi C-01H Putter in 34-inch, 3 degree loft
Mizuno MP60 Irons 3-9iron – 3/4-inch longer, S400 Dynamic Golf shafts, three degrees upright and two degrees stronger loft
Mizuno MP T-Series Black nickel wedges – 47, 51, 56 and 60 degrees, all 1-inch longer and three degrees upright with Tour velvet 58round grips with three layers of tape on every club in the bag