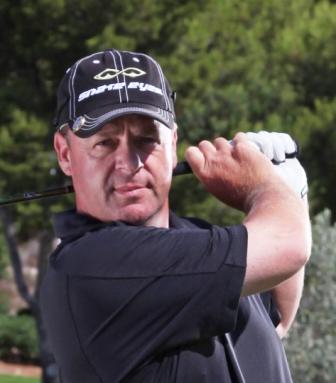 [box] This edition we are profiling EGTF Master Professional, Peter Ledwidge who is also a European Tour Coach (www.mallorcagolfacademy.com)  [/box]
I was born in Falkirk, Scotland in 1966 and my sport was always snooker.  Not good enough to turn professional when I left college with an HND in Mechanical Engineering, I went to work on a commission only basis, in direct sales, selling and training sales people.
I continued to play snooker semi-pro until moving to Mallorca in 1996 with my wife Linda and three children.  We opened a bar/bookmakers in Santa Ponsa in 1997 and in the absense of any snooker on the island, I took to golf as a hobby.  I quickly got the bug and within 7 years got down to scratch.  With a passion for teaching dating back to my sales days, I turned Pro immediately when I gained my EGTF Diploma in September 2006 (aged 40) and started teaching friends and family at any golf course where I was able to pay and use the range.
Keen to increase my golf knowledge, I completed the three Golfsmith Clubmaker Training Courses in my first year as a Pro to become a GCA Master Craftsman, and then went on to do my EGTF Masters Course.  I started to build a client base from the ex-pats in Mallorca from personal recommendations.  In my first three years I logged over 1000 coaching hours from self generated clients without a driving range or golf course to be based at.  I attended numerous CPD training days which I found to be excellent and very informative.
In 2009 I went to work with Stewart Craig in my home town Falkirk when the crisis hit Mallorca with a view to moving back home and working full time at Forthview Golf Range where I had done my EGTF courses.  Before I could sell up here in Mallorca though, Golf Santa Ponsa got in touch and asked me to come and work with them as Professional at the private Santa Ponsa II and III where a lot of my clients were shareholders.  I didn't need to be asked twice!!  I started on 31 March 2010 and have never been busier or happier.
With a golf course to work from and constant exposure to a membership, my lesson diary gets busier and busier.
Why did you become a Teaching Professional?
To make a living doing something I enjoy immensely.
Where do you work?
Golf Santa Ponsa II and III, Mallorca.
Where do you play golf?
Mallorca mainly, the Spanish mainland and Scotland.
What is the best thing about being a Teaching Professional?
Job satisfaction, a client calling me to say 'it works, thankyou'.
What is the worst thing about being a Teaching Professional?
Travelling to tournaments and being away from the family.
How many lessons do you give during the Summer and Winter?
Mallorca is all year round.  Last year I logged over 1000 hours!
What do you consider is the most important lesson you could give someone and why?
Short game, because that is what will reduce their handicap the quickest.
What is your favourite drill and why?
Railway tracks.  If you guarantee good alignment when practising, you get ACCURATE instant feedback from every shot.
Who is your favourite player and why?
I have to say Sebi Garcia because I coach him, but I also like Martin Kaymer because of his temperament.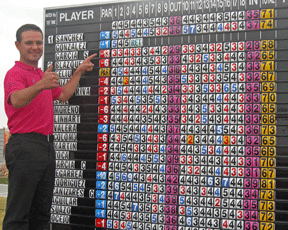 Who would be your ideal fourball and why?
Jack Nicklaus because he is the best there has ever been; Colin Montgomerie because he is my hero, and John Daly so I could go on the lash with him afterwards!
Which is the best golf course you have played and why?
Valderrama because it's steeped in history and immaculately prepared and beautiful.
What is the best and worst experience you have had in golf?
The best experience was Sebi Garcia getting his 2011 European Tour Card at Q school last November.  I honestly can't think of anything that I could describe as being my worst experience.  Not had it yet and hopefully never will.
What is the best tip you could give a junior golfer?
If you want to hit it further, HIT IT BETTER!!
What's in the bag?
Snake Eyes Viper Tour Black 9″ Driver Stiff Aldila NV65
Matching 3 wood 14″ and Hybrid 18″
Snake Eyes 675XC & C Forged Irons Dynamic Gold SL Stiff Steel shafts
Callaway X Forged Wedges 52″, 57″ & 62″
Rife Putter