[box]This edition we are profiling EGTF Professional  Devlyn Fraser[/box]
EGTF Teaching Professional, Devlyn Fraser started playing golf at the age of 11, in 1967.  Devlyn says, 'My father was a keen golfer and we lived near a new golf course (Glendower CC), near Johannesburg.  When I moved to Durban in 1976, I started playing golf seriously and from 1977 until 2002 played Scratch League in Natal.  I represented Circle Golf Club, Umkomaas Golf Club and Southern Natal teams.'
'In 1988 I built a lovely house adjoining the Umkomaas Golf Club (3rd green) where I still live happily and now have a golf lodge called Stroke-One-Inn (http://www.stroke-one-inn.com/) and I teach out of Umkomaas Golf Club.'
Where do you work?
I still run my small engineering group (Devden), founded in 1982, from Durban.  I teach part-time at Umkomaas Golf Club (weekends) and also at the Amazimtoti Driving Range (evenings, under floodlights).
When did you qualify for the EGTF?
March 2001, South Africa
Why did you become a Teaching Professional?
I wanted to put something back into golf, for all the pleasure I have had out of it and to prepare for the last chapter of my working life – finally to make money out of my passion.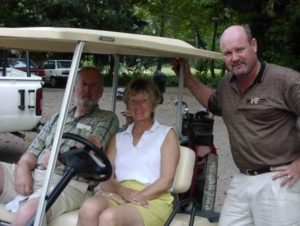 Where do you play golf?
I am a member of Umkomaas Golf Club and Durban Country Club, but play around the country and around the world, when on my regular business travels.
What is the best thing about being a Teaching Professional?
The satisfaction of seeing my pupils improve their game, and hearing them tell friends what a good coach I am.
What is the worst thing about being a Teaching Professional?
Coaching pupils who 'know everything' and sometimes posting scores worse than some of my pupils.
How many lessons do you do in summer and how many in winter?
As we have such a moderate climate, about the same all year, about 6 – 8 lessons per week.
What do you consider the most important lesson you could give someone and why?
Enjoy your golf, by accepting it's not a game of 'perfect'.
What is the best and worst experience you have had in golf?
My first (of 5) holes in one, at the Wild Coast CC and slipping my disc in my lower back in a tournament, and having to be transported back to the club in the Greenkeeper's utility buggy.
Who is your favourite player and why?
Tim Clark, because I watched him grow up since he was a small boy (member of Umkomaas).  I have had the pleasure of playing with him many times and still do, when he's home and seeing how all his hard work has paid off.
Who would be your ideal fourball and why?
Natalie Fraser (my daughter, 11 hcp), Duncan Fraser (my son, 3 hcp) and Dennis Fraser (my dad, 9 hcp – now deceased), because I love them so much.
Which is the best course you have ever played and why?
Chateaux Elan, Atlanta, Georgia, USA.  Great design, beautifully manicured and perfectly managed.
What is the best tip you could give a junior golfer?
Think clearly about how you envisage playing the shot and then follow your first impression – don't change your mind.
What's in the bag?
Ping G 10 9 deg Driver and 3-wood
Jack Nicklaus Rescue 18 deg
3-SW Ping G 10 irons
Carbite 62 deg lobwedge and Bettinardi
(Ben Hogen) Big Ben broomhandle putter