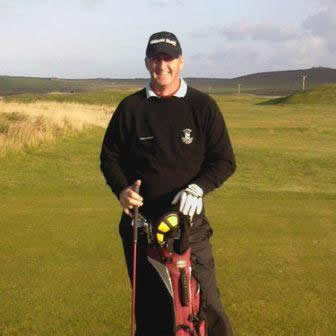 [box]This edition we are profiling EGTF Master Professional William McKenzie (aka Willie) and below you will find an update on what Willie has achieved so far in his golf teaching career.[/box]
Willie was born in Aberdeenshire, N E Scotland and moved back to Dornoch when he was 5 and learned to play golf.  Willie says, "It was here I became obsessed with golf and now 44 years later am still the same.  According to my wife, I eat, sleep and breathe golf.  I am married with three sons and I now live in Fraserburgh, Aberdeenshire.
I am the Head Pro/Manager at Berryhill Driving Range and have been here for 8 years.  Most of my lessons are done here and I also do lessons at three of the local courses.  Lessons include men, women, children and corporate.  On course or whatever is required, I am happy to provide tuition."
When did you qualify for the EGTF?
I took my Diploma Course in April 2005 and my Masters Course in October 2006.
Why did you become a teaching professional?
I became a teaching pro because of my love of the game.  I was never good enough to be a pro player and teaching means I am involved in golf on a daily basis, earning a living doing something I love.  Teaching people how to play golf and being able to pass on the knowledge I have learned from the EGTF, is a fantastic feeling of job satisfaction.
Where do you play golf?
I play golf at Fraserburgh Golf Course, a superb old fashioned links course, the 7th oldest course in the world, founded in 1777.
What is the best thing about being a Teaching Professional?
The daily involvement watching players progress doing the things I have taught them, really makes me feel that my job is worthwhile and hearing back from them about how the lessons are helping or how the little tip has made a difference and seeing the enjoyment they are getting from golf.
What is the worst thing about being a Teaching Professional?
If I ever find a bad side I will let you know.  What's not to like?  I am being paid for something I love doing.
How many lessons do you give in the Summer and the Winter?
In the summer I do up to 40-60 individual lessons plus I have kids group lessons at the range.  I do group lessons for the kids at three local courses on Wednesday, Saturday and Sunday mornings.  In the winter I roughly do about 20 lessons but I am now getting more people booking block lessons to work on their game during the winter months.
What do you consider is the most important lesson you could give someone and why?
Get the basic fundamentals correct.  Grip, balance, stance, alignment, posture.  I believe good set up is vital.  Good golf shots are much easier if time is taken to ensure set up is correct.  The ball does not move, so really there should be no excuse for poor set up.
What is your favourite drill and why?
Show me your studs.  It is a simple but amazingly effective drill.  I use it every day and the difference it can make to golfers without having to go into any technical details is awesome.
Who is your favourite player and why?
My favourite player has to be Tiger Woods.  He has made all the top pro's raise their game just to be able to compete with him.  What higher praise can any one golfer ever get than that.
Who would be your ideal fourball and why?
Tiger naturally!  Jack Nicklaus, Bobby Jones and me playing at Dornoch.  My idea of heaven.
Which is the best course you have ever played and why?
Royal Dornoch without a doubt.  Growing up and playing it every day.  What better start can a young lad get in golf.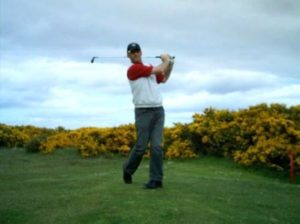 What's the best and worst experience you have had in golf?
Best was qualifying as an EGTF Pro and getting my first hole in one at the ripe old age of 47.  I had seen 10 up to then, mine made it 11.  Worst – not had anything bad worth writing about.
What's the best tip you could give a junior golfer?
Junior golfers should always get properly fitted equipment.  Too many turn up for lessons with dad's clubs cut down.  They are too heavy and the shafts are too stiff.  Get some lessons and learn to set up properly and most importantly, enjoy yourself.  You have a lifetime of this great game ahead of you.
What's in the bag?
Cobra 14v 9 deg driver
W/staff 3 wood 15 deg
W/staff hybrids 18 21 deg
W/staff forged blade irons 5-pw
W/staff tw9 wedges 52 56 60
Putter gel topaz
Ball Callaway tour i